A CHRISTMAS REUNION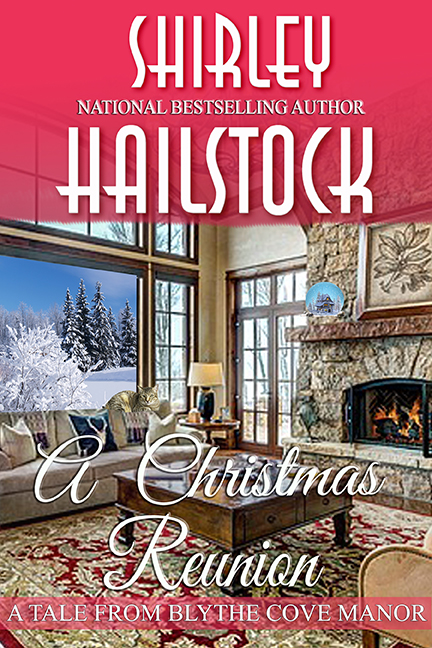 Available at:
Should you reply on an old friendship for help...even if you weren't friends?
Excerpt from His Christmas Star
by Shirley Hailstock
Noelle could count on Blythe and the Blythe Cove Manor to be decked out for the Christmas season. When she arrived yesterday, white lights outlining the B&B were bright and cheery. Her room was the same as last year only the decorations were different. Blythe strove to keep her guests happy and surprised. A full tree with colorful ornaments beamed in the corner near the window. The fireplace mantel had red lanterns with Christmas scenes of skaters on an ice mirror tucked inside. Hidden timers illuminated the scene that had surprised Noelle a day earlier when they suddenly came on.
Picking up the snow globe that stood on the dresser, she smiled at how magical it felt. Amid the water and snow was a replica of her room at the B&B.
Christmas was Noelle's favorite time of year. The party wasn't. And the party was tonight. Attending it was Noelle's sole reason for being on the vineyard. Her home and business were in San Francisco. But her roots were on this island in Massachusetts. She'd grown up on the Vineyard, leaving it to go to college in California, where she'd remained after graduation. She longed to be there right now.
Noelle hated to leave this room. Here everything was as he wanted it to be. Out there she didn't know what to expect. Yet hiding wasn't part of her makeup. And speaking of makeup, it was almost time to go.
Moments later, Noelle stood in front of the bathroom mirror painting on her party face. She smirked at herself as she fixed her lipstick and surveyed the finished product. Well, at least, the painted on face matched the painted on dress she thought. On her last diet, instead of losing weight, she'd gained five pounds. Everything she owned was at least a half-size too small. Some were more than a half size and she'd pushed them to the back of her closet. This Christmas-red dress was at least close to fitting.
She absolutely refused to buy a larger size, no matter what the size zero sales clerk said as she'd looked at Noelle in the dressing room mirror. Size mattered to her and she'd reached her limit. But she had to attend tonight's Christmas party. Her best friend, Joy, actually her only friend, had called and garnered a solemn promise from Noelle that she would show up. Noelle's date, if you could call him that, had canceled twenty-four hours ago and she'd planned to skip the entire affair, but when Joy called, she couldn't afford to snub her.
With one final swish of the lipstick brush, Noelle appraised her features and turned away from the mirror. No one would be attracted to her anyway. With her height at only five feet three inches and a weight that made her look like a troll, she was apt to spend the night hiding behind chairs or going to and from the ladies room. Of course, Joy had to plan a dance as if she was some 1950's society woman whose invitation was highly sought after. The truth was, people loved this once a year party, even though it wasn't the 1950's and this wasn't a society party, at least not the kind that era was purporting to have.
Gathering her coat, Noelle left her room at the Blythe Cove Manor Bed and Breakfast. The party was at Joy's house. Some of the guests stayed at the St. Romaine Hotel, but Noelle preferred the smaller establishment with its quiet charm and the fact that she wouldn't constantly run into people who would look at her, then do a double take as they immediately remembered her when she was a size eight.


Click to subscribe to Shirley Hailstock's Newsletter
Copyright ©2014 - ShirleyHailstock.net. No part of this site may be copied, published or redistributed in any form without written permission from ShirleyHailstock.net.