CHRISTMAS LIST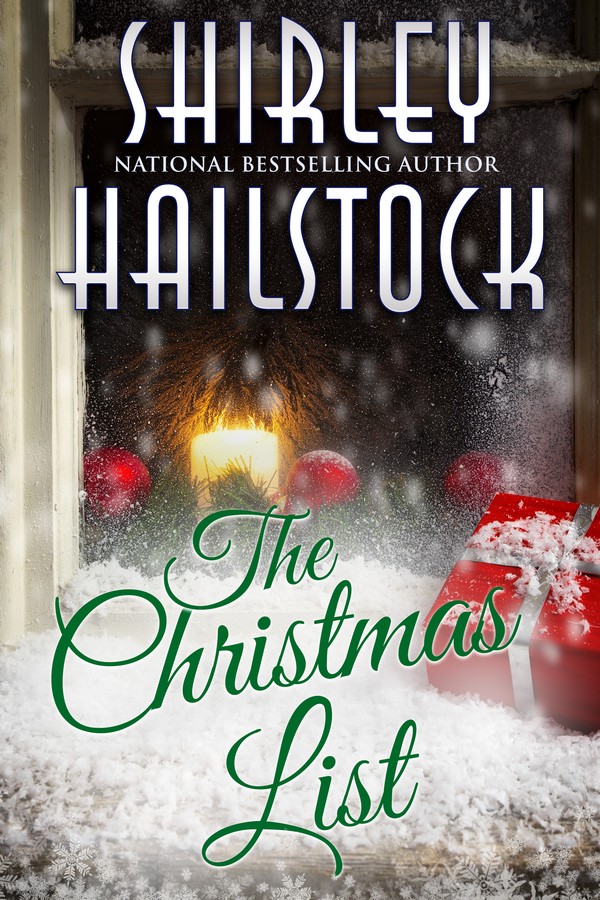 Available at:
What would you do if a teenage angel
appeared in your office and said she was there to save your soul?
This is Peter Barrett's dilemma during a very special Christmas season...
when he discovers that sometimes you just need an angel.
The Christmas List
A freak accident changed the course of tennis player Allie Underwood's life. Two years in recuperation, she's finally back on her feet, but her plans of opening a tennis academy died with the accident. Then Allie encounters architect Peter Barrett who literally pulls the rug out from under her. Attempting to avoid him proves fruitless as he's everywhere she turns. When he pulls her into his arms and passion flares between them, Allie's future and her heart are in jeopardy.
Patting himself on the back after gaining a lucrative contract, Peter Barrett is stunned when a teenage angel appears in his home office and tells him she's there to save his soul. He has to help another mortal by fulfilling her Christmas wishes. Peter has never had a happy Christmas. And the chosen woman stands in the way of his architectural plans.
Will they learn the value of good will to men and open their hearts to love?
Excerpt from The Christmas List
By
Shirley Hailstock
Alice Underwood
Christmas List 20. . .
1. Lose 10 pounds.
2. Christmas dress with white fur.
3. Diamond hair comb in the window of McClure's Jewelry Store.
4. Go to a fancy dress ball and dance with a handsome stranger.
5. Get my tennis academy running and profitable.
6.
Allie's hand shook when she looked down at the year old paper. Her mouth went dry as she stared at the list she'd begun two years ago. Uncalled for emotions sailed into her like a fast moving train. Her free hand went to her heart, trying to control the sudden beating that she could feel all the way to her head.
The note's title was clear, but the year had been obliterated by water damage. She didn't need to see it. She knew exactly when she'd written it. It was during her beforeperiod. Before the accident. Before her world collided with a drunk driver. Before life as she knew it and the promising future her friends and family knew was hers, was snatched away in a blinding few seconds that crushed her life, limbs, and career into a space too small for a woman her size.
Balling the single sheet into golf-ball size, Allie tossed it toward the trash can – missing it by inches. She didn't need to read it. She knew what it said. She also knew the list was moot. Allie wouldn't get any of her Christmas wishes – not then or now.
"Allie, are you ready?" her sister called from the hall. Allie started taking a deep breath and snapping her attention to the present. From the sound of Melanie's voice, Allie could tell she was half-way up the stairs.
"Just throwing out some trash," Allie called. She glanced toward the trash can as if she could see her past.
Melanie pushed the door open and walked in without waiting for Allie to offer her entrance. She was immaculately dressed in black pants, a creamy soft cable-knit sweater and red knee-length boots. Not at all like Allie who wore a simple green dress with long sleeves. It was cinched at the waist by a silver belt whose loop was three dress sizes tighter than it had been a year ago. Allie wore support stockings and shoes with a one-inch heel. There was snow outside, but it had been cleared away leaving adequate paths that could keep her feet dry. Despite spending her entire life in Lighthouse, Maine, Allie did not like boots.
"What are you doing?" Melanie asked, looking around.
"Cleaning out some papers I don't need anymore." She wanted to say some old memories, but that would spark more conversation than she wanted to go into with her perceptive sister.
"Ready?"
Allie pushed her arms into her coat. "I am now." She smiled even though she didn't feel like it.
"It's cold out, but it hasn't snowed yet."
New snow was predicted. Allie saw her sister glance at her shoes. The censure that she should have on the boots Melanie had bought her was there. She ignored it and started for the door.
"I'll take this down for you," Melanie said, lifting the nearly full trash can.
Allie gritted her teeth. After two years, she was capable of taking her own trash down the stairs, but Melanie thought she was helping. And Allie's limp was almost gone. If she didn't overdo or try to walk too fast, no one could tell she even had a limp.
Melanie took the trash basket to the kitchen and left it next to a larger one. The balled up list still lay on the floor of Allie's bedroom. Neither of them noticed.


Click to subscribe to Shirley Hailstock's Newsletter
Copyright ©2014 - ShirleyHailstock.net. No part of this site may be copied, published or redistributed in any form without written permission from ShirleyHailstock.net.