CAPITOL CHRONICLES SERIES
More Than Gold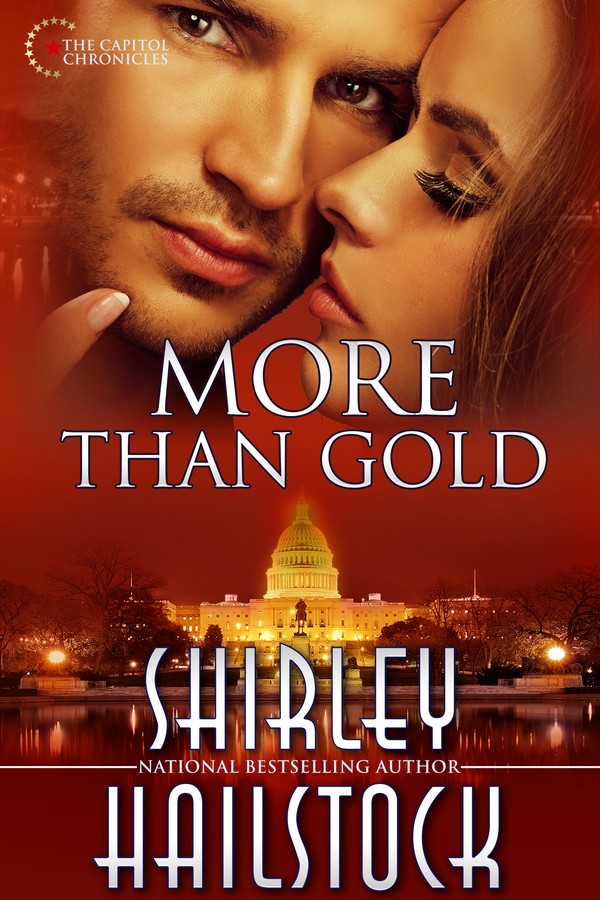 Available at:
From the mean streets of D.C. all the way to the White House...
it's more than a road trip.


#10 on Amazon.com's Top 10 List of Romance Novels.
#3 on Amazon.com's Top 10 List of Romantic Suspense Novels.
An Olympic gold-medalist, Morgan Kirkwood has been in hiding ever since she helped a Korean political prisoner escape with critical government secrets. But when her cover is blown, she is forced on the run with CIA agent Jack Temple--and soon finds him endangering her heart's deepest secrets. Now with one last desperate chance to reclaim her life, Morgan must risk everything on deadly betrayal--or a world of love.
EXCERPT FROM MORE THAN GOLD
by Shirley Hailstock
Morgan Kirkwood hadn't made her bed over a warm grate in some filthy alley in the southeast section of Washington, D.C., for nearly twenty years. She'd replaced shoes made of torn newspaper soles and discarded rags with designer suits, handmade boots and satin bed sheets, but her sense of danger, the need for self-preservation, piqued her senses the moment she stepped from the oven heat of the garage to the air-cooled comfort of her kitchen.
Someone was here.
She could feel him. A man. She didn't smell a male scent or the faint odor of sweat. Not even cologne betrayed his presence. It was the air that had changed. It hadn't been stirred like a morning cup of coffee or hastily rushed through by an aerobic exerciser. Whoever was here had passed through it with ease, barely moving, seeking, but not with stealth, more with purpose. Morgan had schooled herself to be aware. Living on the streets of D.C. had given her a course in survival, in being prepared for anything at any time. She thought she'd forgotten it, but her senses were alive, and Adrenaline pumped into her blood. Her mind sharpened as she thought of what was at hand that she could use as a weapon. Internal radar scoped the space, trying to hone in on the hiding place of her assailant. She didn't sense more than one.
He could be a robber, someone looking to feed a habit, someone she walked in on, but Morgan knew better. Whoever was here was looking for her. He'd been coming for twelve years. Finally they'd connected.
Tonight one of them would die.


Click to subscribe to Shirley Hailstock's Newsletter
Copyright ©2014 - ShirleyHailstock.net. No part of this site may be copied, published or redistributed in any form without written permission from ShirleyHailstock.net.