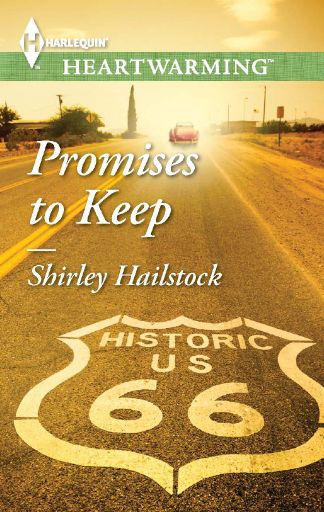 Promises to Keep
Excerpt
She pushed the car forward a toe at a time, shifting the gears with the precision of a choreographed dance. They smoothly slipped from one to the next. There was no grind, no crunch, just the polished perfection of timing and engineering. The car took its head and McKenna let it have it. The speedometer inched up until it reached Mach 1. RPMs soared. Tires spun, keeping traction with the pavement. The night wind ripped over the windshield, whistling in the lamplight like a knife cutting a path through which she flew. And flight wasn't out of the queston

At the first curve, she banked high, easing into the turn, but maintaining speed. She could kill herself if the slightest move wasn't exact. The Corvette performed to her touch, slinging her around the turn and sending her straight down the fairway. McKenna took a moment to smile before bringing her concentration back to her driving. She went on, executing test after test, seeing what the car could do and making sure it would perform as expected should a situation arise when she needed speed, maneuverability, or just plain getaway power.

Satisfied, she headed back toward the track entrance. She entered slowly, cooling the car down as if it were a thoroughbred. Turning off the engine, she got out and closed the door, admiring the beauty of the vehicle as if it were a Greek god.

The lamp lights still buzzed above her. McKenna walked around the Corvette, she couldn't quit staring at it. She stopped and a smile spread across her face. Suddenly she jumped up in the air, doing the splits as if she were a cheerleader. Her voice hollered to the empty bleachers.

And that's when the lights went out.






Click to subscribe to Shirley Hailstock's Newsletter